Relining 450mm at Malanda Milk Factory
Relining Solutions was approached by APL Plumbing Cairns to present a solution for one of its bigger clients, Malanda Dairy Factory in Far North Queensland. In a successful trenchless application, Relining Solutions completed a large diameter fold and form to give the client– and the environment – a worthy solution.
Once approached for the job, Relining Solutions commenced an initial investigation that showed this project would be different to a 'normal' rehabilitation due to the numerous obstacles to overcome. Not only did Relining Solutions have to work around factory shutdown times, confined spaces, minimal access, heights, equipment and plant placement technicalities, it also faced the COVID-19 pandemic and subsequent social distancing requirements.
Overcoming challenges
The project required Relining Solutions to reline a 450 mm diameter and approximately 70 m long reinforced concrete stormwater line, which in normal circumstances would be a quick in-and-out rehab, but this was far from the usual scope of works.
The stormwater line ran underneath Malanda Dairy Factory with two access chambers that could not be accessed due to a concrete flooring installed on top of the manhole lids, both of which had bends of more than 30 degrees in them.
Consequently, there were only two access chambers remaining that Relining Solutions could work from – one of which was surrounded by boilers, refinery equipment and plant with an average allowable working height of 2.2 m, as well as a surrounding working area of around 3 m².
Due to the project's technical aspects and installation access boundary restrictions, it was decided the only appropriate close fit rehabilitation method would be a fold and form PVC Liner with a wall thickness of 13 mm. This would minimise the reduction of the existing pipes inside diameter by only 26 mm but would give an increase in flow capacity of up to 40 per cent due to its smoothness.
Relining Solutions says the planning portion of the project took up 95 per cent, while the execution had to happen in a limited seven-hour window to accommodate all parties involved. The company says it was a challenging project but is confident in its effective and efficient management to deliver a positive solution for the client.
"With Far North Queensland being on our doorstep, it is our ambition to constantly strive to present local councils and clients with the best possible trenchless solutions for their projects on hand," says Relining Solutions.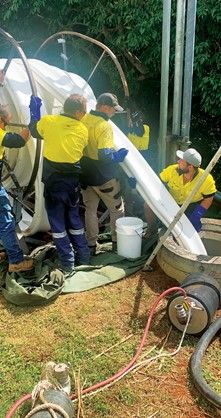 ---